UNION COUNTY COUNTY COURT
(1958-1963)
In 1958 the Ohio General Assembly replaced the township justices of the peace by establishing a new system of county courts. The territorial jurisdiction of a county court lied within that county's geographical boundaries, excluding any areas served by municipal courts. The population of each county dictated how many judges it was to receive. Where more than one judge was assigned to a district, the court of common pleas assigned each judge to a specific jurisdiction within the county. Union County had a population of 20,687 according to the 1950 census and was only allotted one judge for the county court. The office of the county court judge was an elective position; candidates were originally required to have practiced law for at least two years prior to election.
The county court judge was required to maintain civil and criminal dockets with an alphabetical index for each docket. The county court's original jurisdiction in civil actions was limited to sums not exceeding five hundred dollars. The county court's criminal jurisdiction included motor vehicle violations and all misdemeanors. Specifically exempt from its jurisdiction are actions to recover damages for assault, malicious prosecution, slander, libel, or real estate contracts, or to recover title to real estate. Defendants in civil and criminal cases were entitled to trial by jury on demand under the county court's status as a court of record unlike the justices of the peace which were not courts of record.
On November 5, 1957, the voters of Union County selected Richwood attorney, Robert E. Evans Jr. as the first county court judge. The Evening Journal-Tribune out of Marysville called it "the biggest coup" of the 1957 local election. Judge Evans was 25 years old at the time and was just two years out of Ohio Northern University law school. He was the youngest elected judge in the state of Ohio at the time. He doubled the votes of two experienced justices of the peace, who also ran for the position, garnering 2,300 votes out of 4,593 votes cast and winning 19 of 35 precincts. He defeated W.H. Snodgrass of Marysville, who served as Paris Township Justice of the Peace for 16 years and L.H. Collins who served as Justice of the Peace for Taylor Township. Snodgrass netted 1,638 votes and won 15 precincts, while Collins was given 655 votes and won 1 precinct.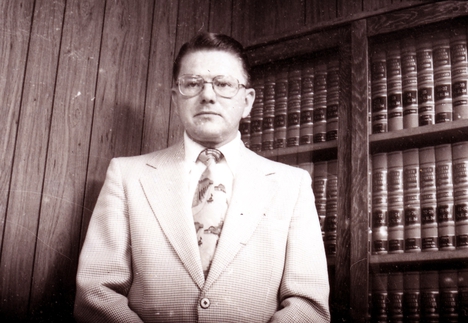 Judge Robert E. Evans, Jr.
County Court Judge (1958-1963)
Judge Evans served as the county court judge from 1958 until 1964. On January 1, 1964, the county court was transitioned over to the Marysville Municipal Court and Judge Evans assumed the role of municipal court judge. A position he held until his retirement in 1982. After its abolishment in 1964 the county court ceased to exist in Union County as all its duties and functions were absorbed by the municipal court and the municipal court expanded those duties and responsibilities.
---
RECORDS OF THE UNION COUNTY COUNTY COURT