UNION COUNTY HOME
(1851-2001)
On February 26, 1816, the Ohio General Assembly authorized boards of county commissioners to construct county poor houses for the care of paupers. Each board of commissioners was to appoint a seven member board of directors, which would oversee the home's management and appoint a superintendent. The superintendent was to live in the house and manage its day-to-day operations including assigning inmates to perform "reasonable and moderate labor" and maintaining a register of the inmates. Operating expenses were to be paid out of the county treasury. On March 8, 1831, the number of board members was reduced to three, and the board was empowered to send non-resident paupers back to their legal places of residence. The board positions became an elective three year term on March 5, 1842. Also, the board was given the authority to reject the admission of any pauper; those rejected consequently were cared for by township overseers of the poor. Through legislative enactment on March 23, 1850, the poorhouse became the county infirmary. In addition to caring for the poor, the county infirmary served as a place of confinement for the needy, sick, the mentally ill, and the epileptic.
In June 1848, Liberty Township in Union County petitioned the County Commissioners for the construction of a poorhouse in that township. No action was taken on the petition, but the issue of the need for a county poorhouse was duly noted. A year later on June 7, 1849, the Union County Commissioners, after due consideration, agreed unanimously to levy a tax for the purpose of purchasing land on which to erect a county poor-house, and a tax of one-half mill on the dollar of valuation, for a total of about $850, was ordered. In December 1850, seventy-five acres of land was purchased from Josiah Kelsey, to be used as a poor-farm. James McIlroy was awarded the contract for erecting a building on the premise on January 5, 1850, for the sum of $1,400. McIlroy was subsequently charged with forgery, and the Board of Commissioners re-awarded the contract on March 4, 1850, to James W. Evans, for $1,409. The building, as constructed, was 40x31 feet in dimension, two stories high, with a hall across the middle; also a wing, one story high, with a cellar under, and a porch in front of the wing eight feet wide; the whole building was constructed of brick.
Final settlement was made with Evans on March 5, 1851, and at the same time John Johnson, John W. Cherry and Joshua Marshall were appointed Infirmary Directors. William C. Porter, father of Common Pleas Court Judge John L. Porter, was hired as the first superintendent. The Commissioners appropriated $500 for operating expenses for the first year. The institution had three inmates when it was first opened in 1851. In a report made by the County Treasurer, on June 10, 1851, the following expenses had been incurred:
Paid Josiah Kelsey, principal and interest, for farm

$978.50

Paid James W. Evans, for erecting house and




outhouse

$1,457.61

Paid Robert Gibson, for repairing fences

$20.00

Paid for furniture, fixtures and provisions

$307.56

Total to that date

$2,763.67
Many counties at the time also established Infirmary Cemeteries, where those that died at the Infirmary were buried. Union County did not establish an Infirmary Cemetery. A room was later erected, in June 1859, for the confinement of lunatics. It should be noted that the infirmary records from 1851 to 1867 have been lost, as was recorded in the 1883 History of Union County, Ohio.
Union County Infirmary Superintendents
| | | | |
| --- | --- | --- | --- |
| William C. Porter | (1851-1855) | Robert A. Linn | (1909-1919) |
| Samuel Jewell | (1855-1856) | Milton A. Southard | (1919-1941) |
| John Jewell | (1856-1862) | W.D. Harmon | (1941-1941) |
| George Mills | (1862-1869) | McKinley Haines | (1941-1956) |
| Levi Keeran | (1869-1872) | A.M. Wallace | (1956-1956) |
| William F. Olds | (1872-1874) | Ivan Albert Barton | (1956-1974) |
| O.W.R. Ingman | (1874-1874) | Helen Barton | (1974-1974) |
| Robert Sharp | (1874-1877) | Silas Carl May | (1974-1979) |
| Levi Keeran | (1877-1879) | Luther L. Liggett | (1979-1979) |
| Robert Sharp | (1879-1882) | Robert L. King | (1979-1982) |
| R.S. Bonnett | (1882-1884) | Luther L. Liggett | (1982-1982) |
| John W. Southard | (1884-1893) | Richard J. Bechtel | (1982-1992) |
| J.W. James | (1893-1894) | Donna Garza | (1993-1996) |
| John W. Southard | (1894-1901) | Kay Lakhi | (1996-1996) |
| Caleb F. Haines | (1901-1907) | Christine Conselyea | (1996-2001) |
| George Moder | (1907-1909) | | |
In the winter of 1866, an amount of land equal to the original purchase was bought from G.W. Kent, making the farm 150 acres. On May 19, 1870, the Commissioners advertised for proposals for 500,000 brick, and on June 6 authorized the levy of a tax of two mills on the dollar for the purpose of building a new Infirmary. In July they awarded the brick contract to John Weaver Sr. for $6.50 per 1,000 bricks. Commissioners Joseph K. Richey and James Fullington along with Infirmary Directors John F. Sabine, Daniel G. Cross and John Guthrie, met and considered plans for the new building on January 30, 1871. They selected the one presented by Jones & Gartner, architects, of Columbus, Ohio. On March 31, 1871, the Board of County Commissioners met to consider bid proposals and awarded the contract to R.N. Jones & Company of Delaware, Ohio, for $27,600, not including heating appliances, with C.A. Garrow to superintend the work. Several changes were made in the plans, and the entire cost, exclusive of heating apparatus, was increased to $29,200. The building was completed on November 8, 1872. The new infirmary was a four story structure with a basement and had one hundred rooms, while the old infirmary was utilized as a barn.
In 1883, the infirmary was described as being "one of the finest for the purpose in the State" of Ohio. In the fall of 1883, the Commissioners decided to build an addition to the infirmary for the purpose of keeping insane individuals. The contract was let in January 1884 to Brooks & Kemper of Dayton at a cost of $1,570. The addition was completed later that year. In June 1895, Samuel Amrine added two verandas to the Infirmary for the cost of $250.
The semi-annual report for March 1875 stated that there were forty inmates, twenty-one males and nineteen females, with four admissions, three births and one death, since September 1874. There were $1,960.10 in expenditures and $665.38 in receipts for the six month period. In September 1882, the infirmary had sixty-three inmates, thirty-two males and thirty-one females, with nineteen admissions, fourteen discharges, two runaways, two transfers and five deaths. There were accordingly $5,024.90 in expenditures and $627.29 in receipts. Secretary John F. Sabine also reported on that occasion that no epidemic had ever occurred in the history of the institution. In the detailed September 1883 report, the directors stated that 246 bushels of wheat, 1,500 bushels of corn, 8,200 pounds of pork, 100 bushels of potatoes, 7 barrels of sauerkraut, 6 barrels of beans and 20 barrels of turnips had been raised and produced from the Infirmary farm for a value of $2,002. In the spring of 1898, the Commissioners purchased an additional fifty acres of land for the Infirmary farm from H.A. Westlake.
Union County Infirmary - c1910
On January 1, 1884, the General Assembly prohibited admitting children who were eligible for children's homes to the infirmary, unless the children were separated from the adult inmates. This legislation resulted in the creation of the Union County Children's Home that same year. Records pertaining to the Union County Children's Home can be found under the Children's Home records. Fourteen years later, it became unlawful to confine the insane and epileptic individuals in the infirmary.
Union County Infirmary Directors
| | | | |
| --- | --- | --- | --- |
| John W. Cherry | (1851-1851) | George P. Cross | (1877-1886) |
| Joshua Marshall | (1851-1851) | John F. Sabine | (1878-1884) |
| John Johnson | (1851-1854) | Thomas M. Brannon | (1882-1886) |
| David Watkins | (1851-1852) | William M. Winget | (1884-1893) |
| Samuel Ballinger | (1851-1853) | Alonzo J. Whitney | (1886-1888) |
| Levi Longbrake | (1852-1861) | John E. Harriman | (1887-1893) |
| Aquilla Turner | (1853-1859) | David R. White | (1888-1895) |
| John W. Cherry | (1854-1857) | Alonzo J. Whitney | (1893-1899) |
| Thomas E. Brown | (1857-1860) | Caleb F. Haines | (1894-1899) |
| Lemuel Myers | (1859-1862) | Elias Kyle | (1895-1898) |
| Daniel G. Cross | (1860-1875) | John H. Ryan | (1899-1905) |
| Stephen F. Kinney | (1861-1867) | George Moder | (1900-1906) |
| Samuel Marsh | (1862-1865) | Charles S. Cheney | (1901-1907) |
| John F. Sabine | (1865-1874) | John R. Taylor | (1905-1911) |
| John Guthrie | (1867-1873) | G. Casper Ruhl | (1906-1911) |
| Orson B. Williams | (1873-1875) | Orville Marriott | (1907-1912) |
| George Wilbur | (1874-1877) | David S. Danforth | (1911-1913) |
| John F. Sabine | (1875-1876) | William H. Longbrake | (1911-1913) |
| Emanuel L. Price | (1875-1878) | John Mulcahy | (1912-1913) |
| Levi Longbrake | (1876-1882) | | |
Effective on January 1, 1913, the board of infirmary directors was abolished and their powers assumed by the county commissioners. In that same year the Infirmary property included a three acre garden, six acre orchard, fourteen cows, five horses and four hundred chickens. The average cost per inmate a year at the time was $136.99. The infirmary report for December 1914 stated that there were thirty-seven inmates, twenty-five males and twelve females. In 1919 the institutional name was changed again. The new name – the county home – indicated emphasis on caring for the county's needy, aged and infirm. The board appointed a county home superintendent, who was required, as was the infirmary superintendent, to keep a record of inmates, and to submit an annual statistical report to the commissioners. The superintendent could require patients to perform any labor suited to their age and strength without compensation. The commissioners were also required to make monthly inspections of the county home, which included an examination of the care and treatment of patients.
During the Great Depression the Work Progress Administration (WPA) constructed a new porch, resided and painted the woodwork where applicable on the County Home and also demolished in 1937 one unused building on the Infirmary grounds, probably the original infirmary building. In the spring of 1949, this porch was removed and replaced with a cement and steel porch.
Beginning in the late 1950s discussion began circulating about replacing the nearly ninety year old county home. The Board of County Commissioner accordingly placed a bond issue for $680,000, $615,000 for the building and $65,000 for equipment, on the November 1958, ballot, which the voters rejected by 317 votes. A reduced bond levy, this time for only $470,000, was tried again on the November 3, 1959, ballot. It passed 3,216 to 2,283, with a fifty-nine percent majority. On December 14, 1959, the Commissioners approved the plans presented by Howard Manor, architect, of Bellefontaine, Ohio. Knowlton Construction Company of Bellefontaine was awarded the construction contract on June 20, 1960, for the cost of $290,800. The construction lasted throughout 1960 and 1961, with the Commissioners accepting the new county home, on July 31, 1961. In January 1962, plans for demolishing the old county home were placed in motion with the contract finally being awarded on September 25, 1962, to Lima Building Wreckers, of Belle Center, Ohio, for $3,600. The demolition was completed on February 11, 1963. In July 1966, the commissioners decided to make an addition to the county home, which was completed in the spring of 1968. This final addition made the facility into a 32,000 square foot structure with ninety beds. On April 19, 1976, the name was formally changed from the Union County Home to Union Manor.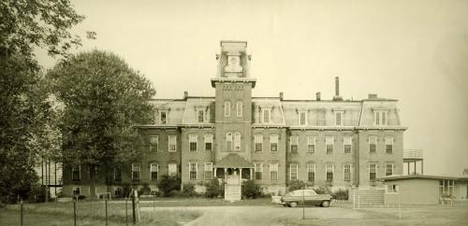 Old and New Union County Home - c1961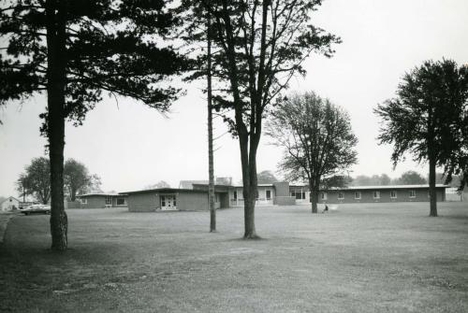 Union Manor - c1976
County homes, where they existed in Ohio, operated much as they did in 1919. The only significant change came in 1929, when the General Assembly made provisions for a county to close its home when the physical plant became unsuitable for habitation or when the population of the home had become too small for efficient and economical operation. In such a case, the commissioners were required to contract with other county homes or private facilities. On January 1, 1995, the County Commissioners relinquished control of Union Manor to Memorial Hospital of Union County. The old county home proved to be inadequate and discussions began whether to conduct a major remodel of Union Manor or to construct a new facility. It was decided to build a new building at Green Pastures in Marysville. Bids went out in May 1999 and construction began in August of that same year. The final cost for the 54,000 square foot facility came in at $8.2 million. On April 1, 2001, Union Manor was officially closed and all the patients were transferred to the new facility, The Gables at Green Pastures.
---
RECORDS OF THE UNION COUNTY HOME