Meet Your Prosecuting Attorney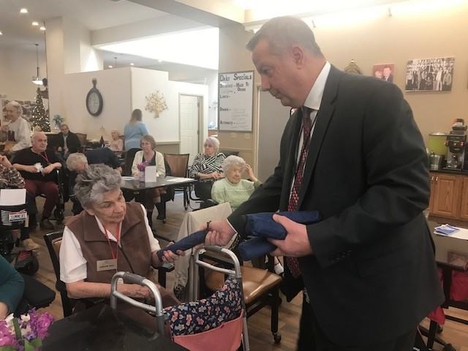 David Phillips is in his fifth term serving the people of Union County as prosecuting attorney, with over thirty-two years of public service.
As Union County's chief law enforcement official, he has the statutory mandate to inquire into all felony crimes which occur within the county. In fulfillment of his duty, he reviews, authorizes charges, and prosecutes violations of felony criminal laws of the State of Ohio. Mr. Phillips is also actively engaged in addressing crime through prevention, education, and investigation, working closely with law enforcement and other public officials to ensure the safety of the community, including the Multi-Agency Drug Enforcement Task Force.
In addition to his duties enforcing Ohio's criminal laws, his office serves as the legal counsel to Union County's public officials including the board of county commissioners, board of elections, and all other county officers and boards, including all tax-supported public libraries, as well as all township officers, boards, and commissions.
Mr. Phillips has personally prosecuted over one hundred cases before juries and handled numerous appeals before the Third District Court of Appeals, as well as the Ohio Supreme Court. He routinely advises law enforcement officials on a variety of issues including search and seizure and arrest and confession.
Mr. Phillips is the past President of the Ohio Prosecuting Attorneys Association, testifying before the state legislature on legislative proposals helping to voice concerns over proposed criminal law legislation as well as civil laws affecting county government. He is also a past board member of the National District Attorneys Association, representing Ohio's prosecutors in this national organization. He has served on various commissions, including the Attorney General's Elder Abuse Commission, and the Justice Reinvestment Ad Hoc Committee of the Ohio Sentencing Commission. He is also a member of the American Bar Association, Ohio State Bar Association and Union County Bar Associations.
Attending law school at the Ohio State University College of Law, Mr. Phillips was awarded his Juris Doctor in 1984. His undergraduate education in business administration was at the Michigan State University, where he earned a Bachelor of Arts degree in 1981. Prior to his election as Union County Prosecuting Attorney, he served as an assistant prosecutor beginning in 1984.
Mr. Phillips is admitted to practice before the United States Supreme Court, the United States Court of Appeals for the Sixth Circuit, and the United States District Court for the Southern District of Ohio as well as all Ohio Courts.