Jeff Stauch - Union County Engineer, Environmental Engineer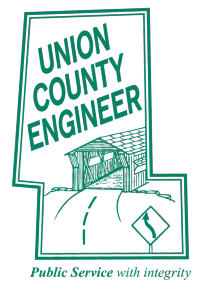 When Ohio became a state in 1803, one of the original offices created by the General Assembly was that of the County Surveyor. His only responsibilities had to do with surveying and mapping. As time went on those responsibilities gradually shifted to roads as our transportation modes changed.
In 1935, the title of the office was changed to County Engineer. The Union County Engineer is elected for a four year term by a popular vote of all Union County voters. The Union County Engineer must be registered as an engineer and a surveyor in the State of Ohio.
In 1989, the Union County Commissioners combined the offices of County Engineer and Environmental Engineer. The office of Environmental Engineer was originally created by the commissioners in 1972.
The present Union County Engineer is Jeff Stauch, who took office in January of 2009.
Annual Report (2023)
County Highway Map (Front) | (Back)
Duties and Responsibilities
Organizational Chart
Township Trustees, Fiscal Officers and Zoning
GovDeals Auction Notice
News
Bid Info
Consultant Info
GIS Data