Patrol Division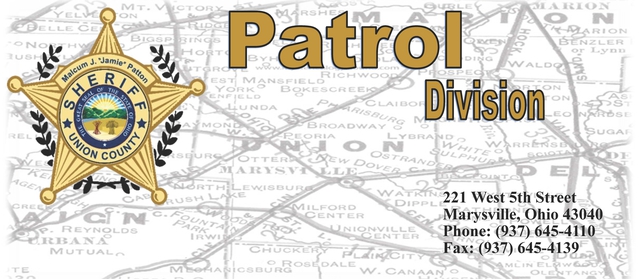 The Patrol Division is within the Union County Sheriff's Office and is responsible for responding to calls for service, citizen's complaints, traffic enforcement, criminal investigations, K-9 activities, Dog Warden activities, commercial vehicle enforcement (scales) and the Multi-County Crash Investigations Team (M.C.C.I.T.).  The primary function is law enforcement operations and is composed of uniformed Deputies and Public Safety Officers (PSO). They respond to calls for service, emergencies, and crimes anywhere in the county, around the clock, 365 days a year.
 
Special Enforcement Operations   - This includes things such as overweight truck enforcement, the speed enforcement trailer and school bus violation enforcement.

Public Safety Officers (PSO) are deputies cross-trained in the skills needed to also be an emergency medical technician and firefighter.  The deputies currently patrol county roads in four-wheel drive vehicles loaded with medical gear and firefighter equipment.  The equipment includes turnout gear, including an air pack; full medic bag; and an automatic external defibrillator.  This allows the deputy to respond to the scene on any type of emergency and be trained to handle the situation.  While the deputy obviously cannot fight a fire alone or transport a patient to the hospital, he can assist the regular medics and firemen.  On various occasions these deputies have served as a third person who is needed on a fire truck or emergency squad out of the station.
Public Safety Officer Program (PSO) The PSO also makes a determined effort to get to know the people of their township.  This allows residents to feel the deputy is specifically looking out for their safety, which is an aspect of a current trend in law enforcement known as community policing.  This means the deputies and the public work as a team to deter crime.  Residents also like to see a familiar face patrolling.  They take a on a sense of ownership of the deputies and that helps break down the walls between citizens and deputies.