Airport Authority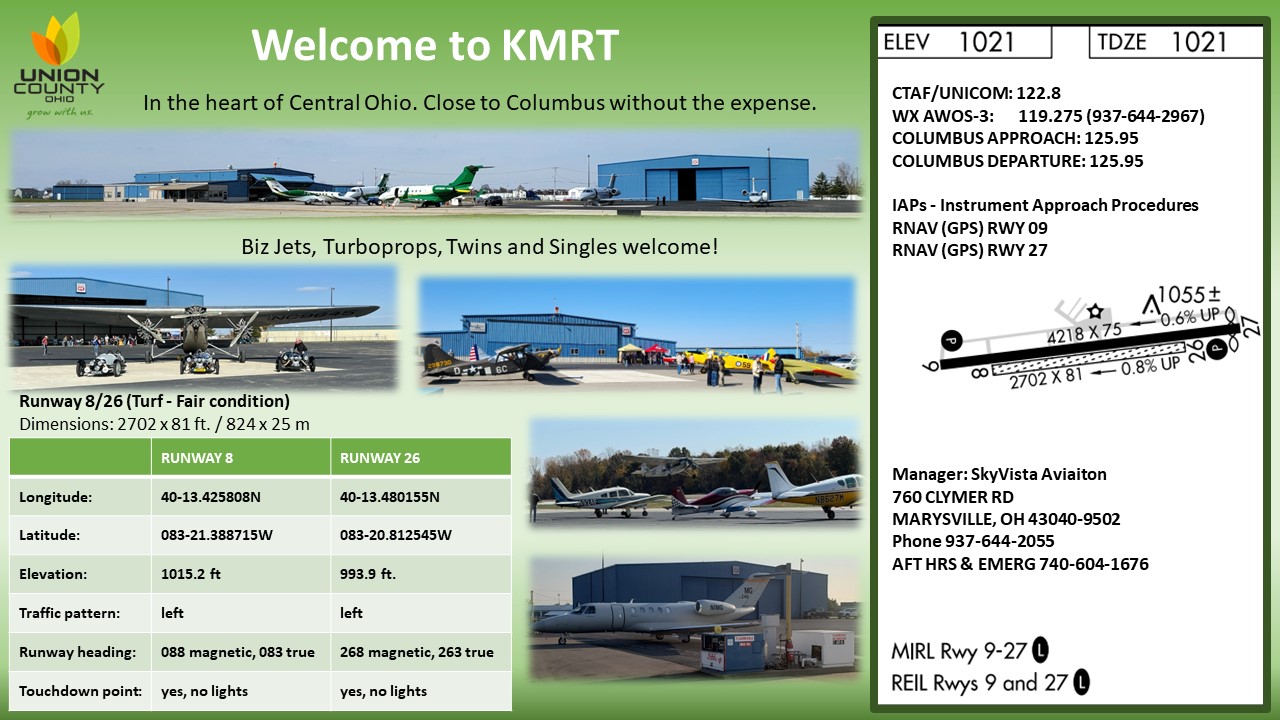 - The airport provides a 4218'X75' hard surface runway suitably oriented east and west with GPS approaches to runways 9 and 27. Airport surfaces, facilities and airspace are protected by aviation zoning and recorded easements and compatible land use zoning.
- The Union County airport is located at  760 Clymer Road, Marysville, Ohio 43040 . The Union County Airport is a public use airport which serves the region in and around Marysville, and Union County. It offers close proximity to the cities of Dublin, Delaware and Plain City, with convenient access to State Route 33 and the commercial and light industrial corridor northwest of Columbus
- Terminal AWOS (automated weather observation system) information is available on 119.275mz and via direct dial telephone access at 937-644-AWOS (937 644 2967). Facilities include public access reception area, pilots lounge, full service and self service fueling for 100LL and Jet A.
- Aircraft tie down and storage is available with 55 individual secure T hangars, a heated single volume hangar and separate repair facilities. The airport is staffed during regular business hours offering assisted service fueling for both 100LL and Jet A fuel and Comprehensive FBO (fixed base operator) services are provided by Skyvista. The airport is governed under the authority granted in the Ohio Revised Code section 308, which provides for the establishment of the Union County Regional Airport Authority. Click Here to contact us for more information. 
This site is maintained by the Union County Regional Airport Authority for the purpose of providing information concerning the development and governance of the Union County, Ohio regional airport.
The Union County Airport Authority is a volunteer governmental board appointed to staggered three-year terms by the Union County Board of County Commissioners.  It is established and operates under the provisions of the Ohio Revised Code Section 308.  Among its duties are:
1.    make contracts in the exercise of the rights, powers, and duties conferred upon it.
2.     make, adopt, amend, and repeal bylaws for the administration of its affairs and rules for the control of the administration and operation of airports and airport facilities under its jurisdiction, and for the exercise of all of its rights of ownership therein.
3.    fix, alter, and collect rates and rentals and other charges for the use of airports and airport facilities under its jurisdiction to be determined exclusively by it for the purpose of providing for the payment of the expenses of the regional airport authority, the construction, improvement, extension, repair, maintenance, and operation of airports and airport facilities under its jurisdiction, the payment of principal and interest on its obligations, and to fulfill the terms of any agreements made with the purchasers or holders of any such obligations, or with any person or political subdivision.
4.    Shall have jurisdiction, control, possession, and supervision of all property, rights, easements, licenses, moneys, contracts, accounts, liens, books, records, maps, or other property rights and interests conveyed, delivered, transferred, or assigned to it.